Montreal, June 13, 2019 – After an extensive global search, over 50 applications from all over the world, three days of presentations and a two-hour pitch session by eight selected startups, the International Fertilizer Industry (IFA) and Larta Institute today crowned 3Bar Biologics as the winner of the first ever Plant Nutrition Startup Showcase, for its innovative on-farm microbe fermentation technology.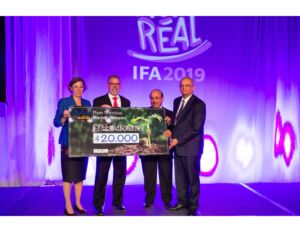 "We are thrilled and honoured to win the inaugural Plant Nutrition Startup Showcase," said Bruce Caldwell, CEO and Founder of 3Bar Biologics. "We are passionate about helping farmers to reduce nutrient losses and increase their yields. Connecting with members of the fertilizer industry will help us to benefit from their plant nutrition expertise and experience and hopefully make our unique technology available to a wider audience."
Read More about the Plant Nutrition Startup Showcase.
Read more about the IFA Annual Conference.
About 3Bar Biologics
3Bar Biologics is a cutting-edge biotech company that helps the agricultural value chain optimize their solutions for improving quantity and quality of crop production. 3Bar's proprietary delivery method grows fresh microbes on-site to ensure farmers have the most viable beneficial microbes at the time of application. By partnering with innovative companies and research universities, 3Bar is delivering the highest quality and most cost effective biological microbe solutions to drive profitability for the agriculture industry, while also reducing its dependence on synthetic chemicals. For more information, visit https://www.3barbiologics.com/